The Process of Upholstery
Allow me to preface this with: During Rupholstery I have always done "whatever the piece needs". This has become a lost art and I think that is a shame. What I mean by this is when a piece of furniture or other work comes into my shop and needs framework, wood touch up, re-spring, etc. It gets what it needs to return it to like-new condition or better. I was taught this way and will continue on with that tradition.
Generally speaking, a phone call is made to us.
We will ask for you to send some pictures of the piece or pieces of furniture you want to have reupholstered. email to

minuphol@gmail.com

A picture or pictures are sent back to our email.
We will do an estimate of labor cost and fabric yardage. To the best of our ability.
We send back the reply to your email.
You look it over and see if it is something you wish to proceed with.
If you wish to proceed we will still need a fabric.

You can choose from our extensive line of fabrics. Come in, spend some time and take a few books home to see it in your surroundings.
Once a fabric is chosen we will finalize the estimate and ask for a 25% deposit to be placed on the schedule.

When your scheduled time arrives our service, or you, will pick up the furniture and bring it to the shop for reupholstery.
OK, so the sale is made, the fabric is picked out, all other materials needed are in the shop, and the piece is either brought in or picked up.
The piece is measured:
All sections like the seat, deck, Inside arm, Outside arm, Inside back, Outside back, etc.
The piece is stripped:
All fabric is loosened, some removed some left on loose so the filling does not get disturbed.
The frame is checked:
If there any loose joints they will be opened cleaned and re-glued, clamped and reinforced if need be.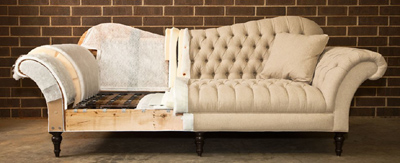 Now We Have a Solid Frame to Work With 
Any exposed woodwork is looked over. A wash down is done on the woodwork. This may consist of just a polish or if touch-up is needed a wash with thinner.
If there are scratches they are touched up.
If there is damage to the woodwork it is repaired.
If repairs or touch up is done a fresh coat of finish is applied.
Now We Have a Solid Frame and Fresh Wood Trim
 Any burlap, webbing, or other unseen products are replaced if necessary.
If springs need to be re-tied this process is done at this stage.
Now We Have a Piece Ready to Cover
The Cutting Begins
All sections are laid out to get the best cutting from the least amount of fabric.

The sections are cut, marked and stacked. Ready to be sewn or put on. This cutting process is harder to explain. Suffice to say it is an important part of the process. If fabric is cut and sewn well it makes the Upholsterer's job much easier.
The Fitting is Done
All pieces that need to be fitted to the piece of furniture get fitted (patterned) to get ready for sewing.
The Sewing is Done
The seamstress is given the pieces that need to be sewn.

All sections are sewn at this point except the cushion(s) and possibly any other sections that need to be "fitted" after upholstery is done or partially done.
Now We Have a Piece Ready to Upholster
The Upholstery Begins
The seat generally goes in first, sewn to the underlying burlap on the seat and upholstered seat and deck.

Inside arms are usually next. Upholstered, cut around obstructions like frame members.

Inside back is next. Again cut around frame members.

All this is done with trained hands that can not only smooth out wrinkles but feel the inconsistencies of any the underlying filling and make alterations as needed.

Any required buttons are installed.

At this point the inside of the piece is complete.

The cushion material is taken and a pattern is made to "fit" the piece. Once this pattern is made it is duplicated on the other seat fabric giving us a top and bottom.

This cushion pattern is used to make the cushion filling. It may be foam, springs, down or a mix of these. This filling must fit the cushion pattern. If this filling is reused it gets a fresh top layer of filling (Dacron wrap, cotton etc.) Whatever it needs.
Back to the Sewing Machine
The new cushion pattern is sewn together. Zipper is added, pattern is matched to the boxing if needed.
Back to the Upholsterer

The new cushion is filled.

Checked on the piece to be sure of a good fit. Adjustments can be made to the piece if they are minimal.

When the cushion(s) fit the outsides can then be Upholstered.

Outside arms generally go first, then the outside back.

Panels are covered and attached if required.

Nail or other type of trim is applied if required.

The piece is flipped over and the bottom cloth (cambric) is applied. Sometimes called a dust cover. This is to finish off the bottom, and catch any dust that may fall down in use.

The bottom of the legs and domes, are cleaned to wipe off any finish that may have gotten on them in the touch up stage.

The piece is turned right side up. Checked over for any thread ends, or other things. Basically a final check.

The piece gets covered with something. Usually a plastic bag or a pad to keep it clean.
Delivery is Made 
Customer smiles (This is best part!).
Sale is complete.
Oh yea payment is made. (This is the second best part).
If after reading this you are saying to yourself. "I didn't realize all that went into this". That is good. The art of re-upholstery is much different than a factory setting where it is all new, uniformed, and ready. This is a trade that requires experience, and a love of the craft.