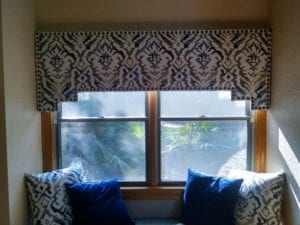 Made From Quality Wood and Padded to Add Depth
There is nothing like a custom-made, professionally built cornice. If your doors or windows need some design help, why not add a new cornice. We make them in any shape and size. They are beautiful and functional and can be used to cover a vertical blind track, hide a drapery rod, or dress a plain opening.
Key Benefits
Can be built to most shapes and sizes.
We have many years under our belts building cornices.
We offer a large assortment of top-named fabrics.
**Please note. We no longer offer re-upholstery of existing cornices unless we inspect them first. Or they were built by us. This is due to the fact that many inferiorly made cornices have made their way into the marketplace and are just not built well enough to re-upholster.**